Graduate Acceleration Showcase | The brightest graduate start-ups in tech
The event, organised by SETsquared and hosted by Deloitte, saw 19 of the brightest graduate tech start-ups from the universities of Bath, Bristol, Exeter, Southampton and Surrey – many with a sustainability focus – pitch their innovative business ideas to more than 100 high-profile investors, mentors and entrepreneurs. Out of the nineteen companies to make it through to the event, nine of these were University of Bath graduates and centre members!
Speaking at the event on Wednesday (26 June), Dr Alan Whitehead MP, shadow minister for energy and climate change at the Department of Business, Energy and Industrial Strategy (BEIS), said:
Start-ups taking part in the Graduate Acceleration Showcase included high-tech, not-for-profit, creative services and consumer products, with each having undergone rigorous market validation. After a competitive selection process, the 19 shortlisted companies included the following nine Bath graduates and SETsquared Bath members: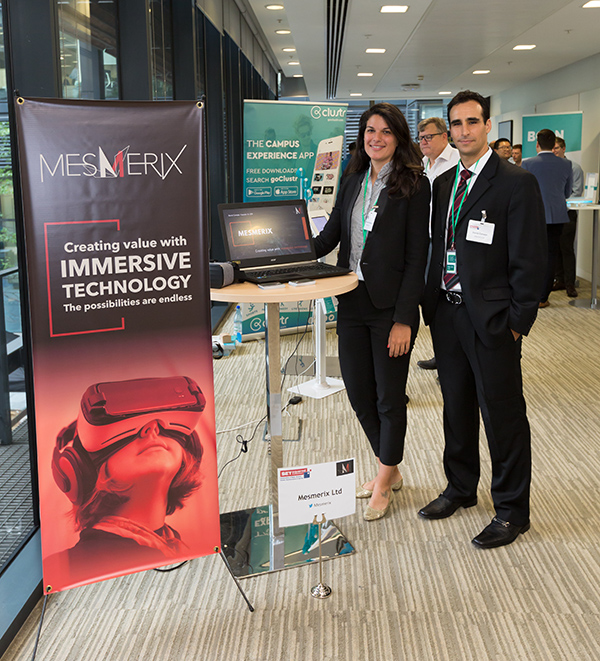 A platform that uses disruptive technology to feed immersive equipment with high-quality data, thus creating unique experiences for the user by providing useful information at the right time and place.
Enhancing temporary staffing recruitment for conferences, trade shows and expos by helping students to get their feet in the door of their industry.
Imagine being able to add value to India's floral waste instead of returning it to a landfill. RETRA is doing just that by extracting oils from the waste leading to sustainable floral waste management.
A free app that runs scheduled live giveaways with video hosted game show style formats, where all users compete in unison for a grand prize.
The world's first digital white cane for people with visual impairments.
Hardware capable of processing AI faster than anything commercially available. Giving the power of a supercomputer to everyone and everything.
Marks a new age in clean skincare. Simply formulated. Natural & vegan. Sustainably packaged. For a better skin, and planet.
Empowering the most vulnerable through innovations in the sanitation industry.
Teaching people how to read faster and remember more by transforming them into speed readers and memory experts so they can learn anything faster.
Each of the graduate entrepreneurs was looking for support to take their businesses to the next level, either through investment or securing mentorship. Nia Simpson, founder of Compact Cane, commented:
The event was SETsquared's first Graduate Acceleration Showcase, which builds on a 17-year history of running successful investment showcases.
Sally Clifton, a business advisor and mentor who attended the Graduate Acceleration Showcase, added:
Since its inception in 2002, SETsquared has supported more than 3,500 technology-based organisations through their lifecycle, helping them raise more than £1.8bn.
Siobain Hone, Graduate Enterprise Manager at SETsquared Bath and Chair of the SETsquared Student Enterprise Group, concluded:
The award-winning, world-leading SETsquared Partnershipis a long-standing partnership between the universities of Bath, Bristol, Exeter, Southampton and Surrey which specialises in growing high-tech start-ups through its support programmes and other business acceleration services.
We are incredibly proud of the companies from SETsquared Bath who each gave fantastic pitches and well done to all involved on the day!